FRUIT CREPES
FRUIT CREPES
Breakfast or brunch has never been so yummy! Try these fruit crepes this weekend!
Serves 4
Ingredients
1 cup 1% Milk
2 Tbsp Butter, melted or canola oil
2 tsp Granulated sugar
1 tsp Vanilla
1 cup All-purpose flour
2 cups NK Blueberries or chopped fruit
1 cup Plain0% Greek yogurt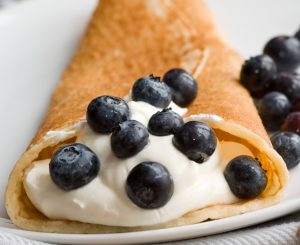 Instructions
In a bowl, whisk together water, butter, sugar and vanilla. Slowly whisk in flour until batter is smooth. Let stand for 10 minutes.
Heat a small nonstick skillet or crepe pan over medium heat and lightly spray with cooking spray.
Pour about  1/4 cup (60 mL) of the batter into the pan and swirl pan to coat bottom.
Cook until set and golden, about 2 minutes. Flip over and cook the other side until golden. Remove from pan and repeat with remaining batter. Fill crepes with berries and yogurt.