MINTY GREEN OLIVE CELERY SALSA
Minty Green Olive Celery Salsa
You will seriously want to spoon this delicious savoury salsa all over EVERYTHING!
Contributed by Megan Porta from pipandebby.com.
Serves: 2 cups
Total time: 30 min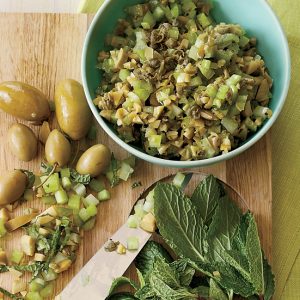 INGREDIENTS:
2 tablespoons extra-virgin olive oil
2 garlic cloves, lightly smashed and peeled
1 cup finely diced celery (3 ribs)
1 cup finely chopped pitted green olives (5 ounces)
2 tablespoons drained capers, chopped
2 tablespoons chopped mint
Freshly ground pepper
DIRECTIONS:
In a small skillet, heat the olive oil. Add the garlic cloves and cook over moderate heat until golden, about 2 minutes. Let the oil cool, and then discard the garlic cloves. Transfer the garlicky oil to a bowl and add the diced celery, chopped green olives, capers and mint. Toss the salsa, season with freshly ground pepper and serve.