GRAPE, CELERY, & COUSCOUS SIDE DISH SHARED BY NATURE KNOWS
This refreshing and crunchy side dish is a great substitute for rice or potatoes. This great recipe was created by Martha Stuart – Everyday Food.
Ingredients
Makes 4 serving
1 cup Israeli couscous
1 teaspoon grated orange zest plus 2 tablespoons juice
2 tablespoons extra-virgin olive oil
1 tablespoon white-wine vinegar
Salt and pepper
1/2 pound halved red seedless grapes
3 thinly sliced stalks celery plus 1/2 cup celery leaves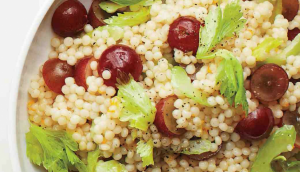 Instructions
Cook couscous according to package instructions. Whisk together orange zest plus juice, olive oil, and vinegar. Season with salt and pepper. Toss with couscous, grapes, and celery stalks and leaves; season with salt and pepper.