SKILLET BLT PANZANELLA
Created by Judy Kim is an NYC-based food stylist, recipe developer, and photographer. She also writes recipes for her website The Judy Lab.
Bacon and crunchy croutons make this salad feel more like the sandwich you know and love.
TOTAL TIME: 20 mins PREP: 15 mins
SERVES: 4
INGREDIENTS:
12 oz. thick-cut bacon, cut into 1″ pieces
2 cup ciabatta bread, torn into small pieces
Kosher salt
Freshly ground black pepper
2 cloves garlic, minced
3 tbsp. balsamic vinegar
5 oz. arugula
1 lb. NK tomatoes
1 small red onion, thinly sliced
1/2 cup chopped fresh parsley
1/4 cup torn basil leaves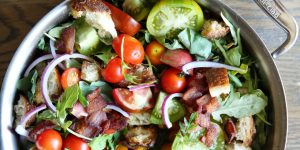 DIRECTIONS:
Heat a large sauté pan over medium heat and add bacon in an even layer. Fry until crisp, about 5 minutes. Transfer bacon using a slotted spoon onto a paper towel-lined plate and set aside. Remove half the bacon fat and reserve.
Make croutons: Return pan to medium heat and toss bread in bacon fat; season with salt and pepper. Toast until golden brown, about 5 minutes. Transfer croutons to a bowl and set aside.
Add remaining bacon fat to sauté pan and toss with garlic over medium heat. Sauté until garlic is softened and fragrant, 1 to 2 minutes. Remove from heat and stir together with balsamic vinegar, salt, and pepper.
Add arugula, tomatoes, red onion, parsley, and croutons; toss together with dressing. Top with bacon and basil and serve immediately.